Portable LED Runway Lighting for Emergency Operations
Portable LED Runway Lighting for Emergency, Construction & Natural Disaster Response Operations by Aviation Renewables
Portable LED Runway Lighting System supplied by Aviation Renewables
Aviation Renewables was tasked with the supply, training and commissioning of a portable LED runway lighting system for an International Airport located in the Caribbean. The portable LED runway lighting system solution is stored, transported and charged in a civilian designed mobile trailer.
As a contingency, the airport is able to transport the equipment to any location in the airfield within minutes. This mitigates the risk of power failures affecting the airport operations due to insufficient runway lighting.  The portable LED runway lighting system can also conveniently be used for planned outages during maintenance or construction. This gives a measure of schedule flexibility to the airport and reduces maintenance costs.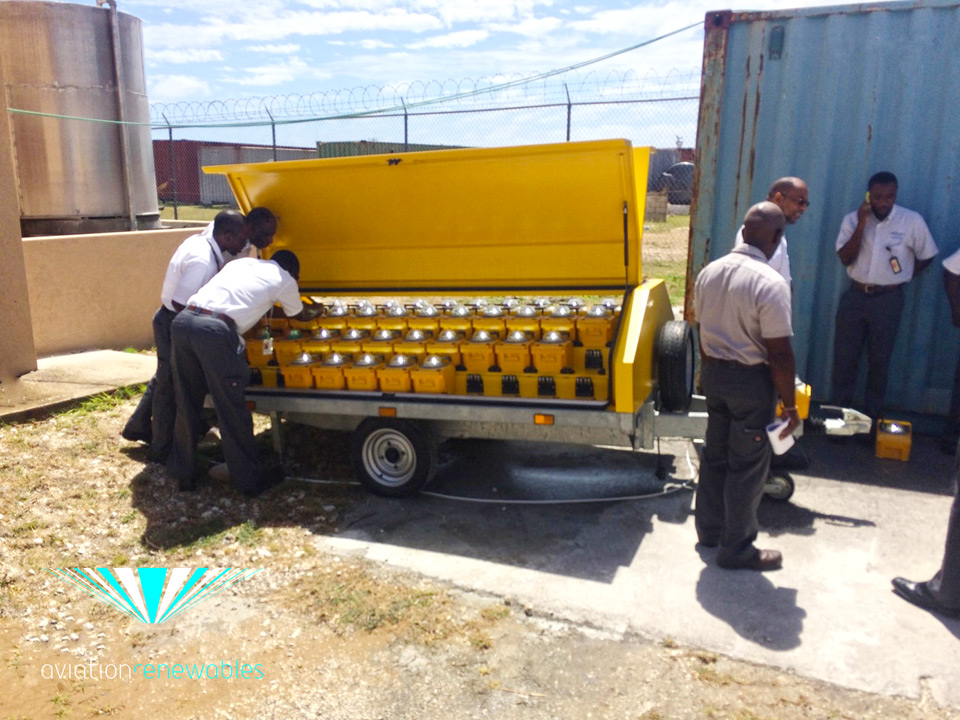 LED runway lighting
The international airport required an autonomous, ready to go portable LED runway lighting system consisting of runway edge and threshold lights capable of meeting ICAO & FAA non-precision medium intensity runway lightings standards. The LED runway lights operate from a hand held radio control system for on/off and intensity control.  As part of the delivery, Aviation Renewables was contracted to train, deploy and commission a complete turnkey portable LED runway lighting system within two months of delivery.
The airport identified their conventional powered airport lighting system as a possible failure point in the event of a natural disaster, including the increasing risk of hurricanes. The autonomous LED runway lighting system will mitigate this risk allowing uninterrupted, 24/7 operations to continue in the event of hurricane damage or power failure to the main runway lighting system. The autonomous LED runway lighting system has been operating reliably for a variety of customers on every continent for more than 40 years supporting civilian, defense and humanitarian aid programs, and operations.
View more in Aviation Renewables offers solar LED airfield lighting solutions.