LED Airfield Lighting – LED Lighting Technology
LED Airfield Lighting technology entered the world wide lighting market with a bang. Currently being used in most industrial sectors; LED technology delivers significant lighting benefits in terms of efficiency and cost with significant advantages achieved within the aviation lighting industry. Globally, most airports are now replacing their incandescent lighting with LED airfield lighting as a result of its low operating and maintenance costs. In fact, some may say an LED airfield lighting revolution is taking place in the aviation industry with many airports now moving to solar-powered LED airfield lighting fixtures to light runways, taxiways, PAPIs, wind cones, ERGLs and signs.
LED Airfield Lighting Overview
Technically speaking, an LED is a light emitting diode. LED fixtures emit light when an electrical current passes through them, producing clear and crisp bright illumination with minimal heat. By absorbing heat within a heat sink, the LED conserves energy by minimizing energy loss during the process of generating light.
LEDs produce light in one direction, allowing for the light output to be concentrated and focussed as compared to incandescent and florescent fixtures which emit light and heat in all directions, a very inefficient process compared to LED fixtures. As a result of these benefits, the aviation industry is embracing LED technology in full with a movement to low cost LED airport lighting across regional, international and remote airports worldwide.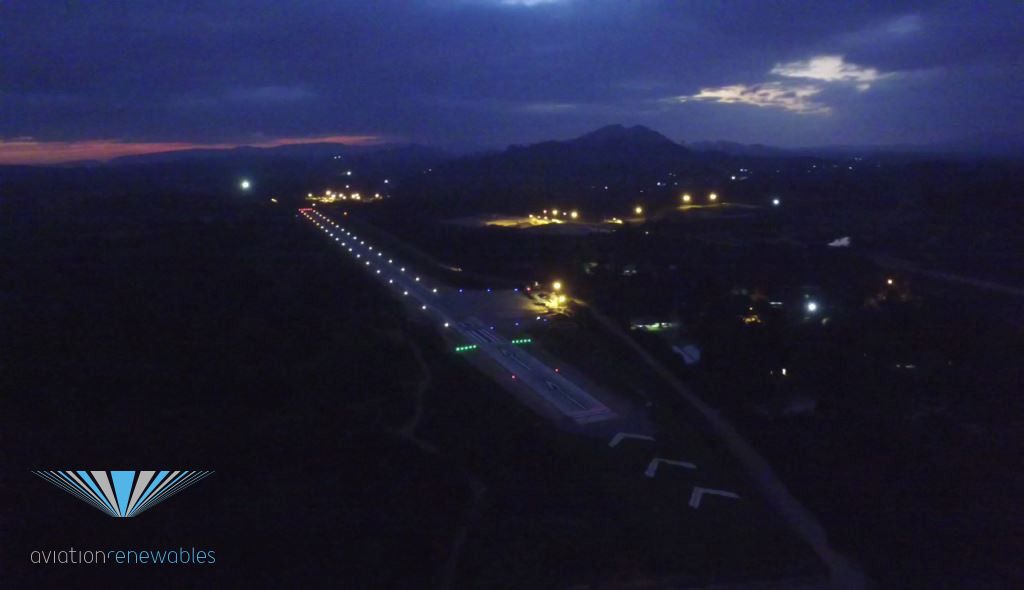 For additional information, discover how airports are embracing Solar Airport Lighting Technology
In addition, LED fixtures do not fail unexpectedly like an incandescent fixture which will 'burn out' as a result of the lighting filament reaching end of life. In comparison, LED fixtures gradually decrease their lumen output over a much longer period, whereby the illumination decreases slowly and measuredly over tens of thousands of hours.
Generally speaking, the LED fixture requires replacement after losing 30 percent of its specified illumination.
Solar LED Airfield Lighting Capabilities
Operating as a consultant, integrator and installer of LED airfield lighting, solar power systems and autonomous marking solutions, Aviation Renewables delivers turn-key solutions including solar LED airfield lighting, solar LED obstruction lighting, solar LED heliport lighting, solar LED PAPI glide slope systems, LED apron lighting, solar power systems and green-tech energy savings solutions.