Aviation Renewables supplied, installed, trained and commissioned a solar LED airfield lighting system in Eastern Africa. The system features solar LED wind cones with a complete solar LED runway lighting system, hand held radio controller and Pilot Activated Lighting Control (PALC) system. Located in an austere location with no road network or electrical infrastructure, Aviation Renewables traveled to the remote location to successfully complete the project within 8 days.
24/7 LED Airfield Lighting Operations
Situated in a remote desert location, an existing 2500m paved runway required 24/7 LED airfield lighting operations. With no access to electricity, the LED runway lighting system operates completely off-grid with little to no maintenance requirements. Upon arriving to site, the project consisted of a field survey, excavation and installation of the entire solar LED airfield lighting system within 4 days. Once installation was complete, two additional days were spent for the commissioning of the system along with training provided to ground staff for the operation and any maintenance of the solar LED airfield lighting system. As a result of the remote location, considerable logistical difficulties and long distances of overland travel provided, project execution was critical. Working with the customer, Aviation Renewables developed a cost-effective and fully compliant solar LED airfield lighting system that met all of the operational, safety, financial and implementation objectives.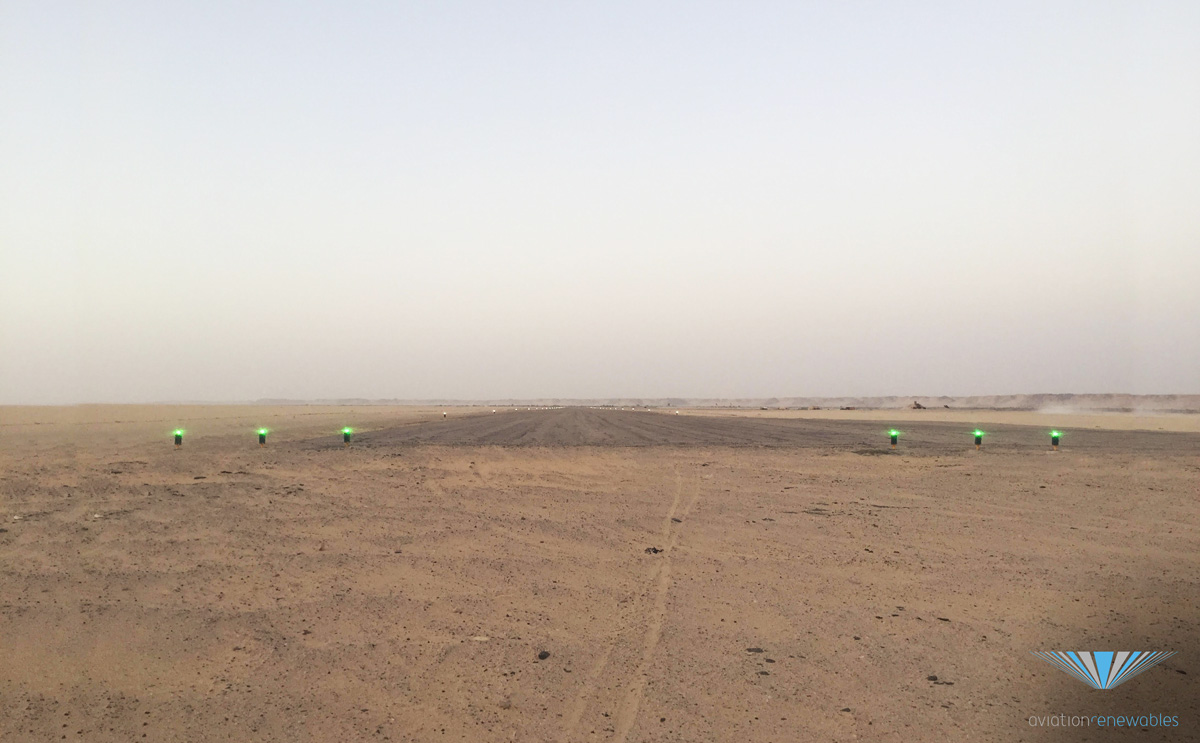 Next Generation Solar Powered LED Runway Lighting Systems
The self-contained solar powered airfield lighting system includes solar LED runway and threshold lights with a solar LED wind cone. Activated by a solar-powered Pilot Activated Lighting Controller (PALC), the pilot can control the runway lighting intensities and mode of output during the approach. In addition to the PALC, the airport ground crew can control the entire LED airfield lighting with the use of a handheld radio controller. Similar to a conventional system, the operator can activate on/off controls, select intensities, change from covert or overt mode and run diagnostics during take off, landing and taxi operations. Having the ability to operate the solar LED airfield lighting system in either visible or infrared LED outputs for operations using Night Vision Goggles provides tremendous flexibility. With proper use, the solar LED runway lighting system is designed to operate for 4-6 years with little to no maintenance, at which point the battery will need to be replaced. A properly maintained solar LED airfield lighting system should provide 15-20 years of service or more.