LED PAPI Enhances the Safety Margin of Any Airport
An LED PAPI enhances the safety margin of day and night operations at any airport. The ultra-bright high efficiency LED light is clearly decipherable by the pilot, leading to stable approaches and safe obstacle avoidance. When powered by an alternative power source such as solar, a PAPI (Precision Approach Path Indicator) can be installed at any airport in the world, regardless of location or availability of grid power.
The Industry's Most Efficient and Most Installed Solar LED PAPI
The Solar Series LED PAPI enables airports in remote locations to have the full complement of LED airfield lighting solutions available to airports without available electrical infrastructure. Easily activated by radio control, the PAPI significantly increases both safety and situational awareness for runway landings with LED airfield lighting systems.
Without the need to trench, cable or lay conduit, a solar PAPI system provides significant cost savings including reduced installation, engineering and construction costs.  During operation, the Solar Series LED PAPI saves money in two unique ways: the elimination of electrical power inputs and due to the long performance LEDs, little to no maintenance.
When installed as part of a complete LED Airfield Lighting System, the PAPI can be controlled individually to provide precise glide slope indication or in combination with an entire LED airfield lighting system whether it be solar, battery or airfield electrical lighting using a wireless communication protocol that operates via a single hand held controller, laptop or tablet interface. Continuous advancements in wireless communication enable a PAPI system to seamlessly operate with any type of electrical or off grid LED airfield lighting solution available in the market today.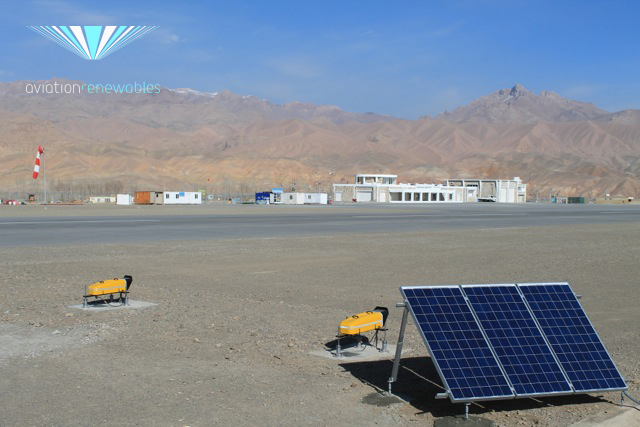 View more in Aviation Renewables offers in the Solar Series Portable LED PAPI industry's.