Portable Airfield Lighting
The Solar Series Portable Airfield Lighting System (SSPALS) is a military designed airfield lighting system that provides the ultimate tactical solution for versatility, portability and performance. With MILSPEC solar LED airfield lighting as its backbone, the Solar Series Portable Airfield Lighting Systems (SSPALS) is capable of continuous operation at medium intensity, non-precision IFR levels. As industry's only tested and fielded MILSPEC designed rapid deployment airfield lighting system, has triple redundancy with built in solar, battery and auxiliary power supplies allowing  the system to operate in any climate worldwide. Runway lighting systems can be custom designed with military grade trailers capable of storage, transport and powering of the portable airfield lighting system.
Portable Airfield Lighting Solar System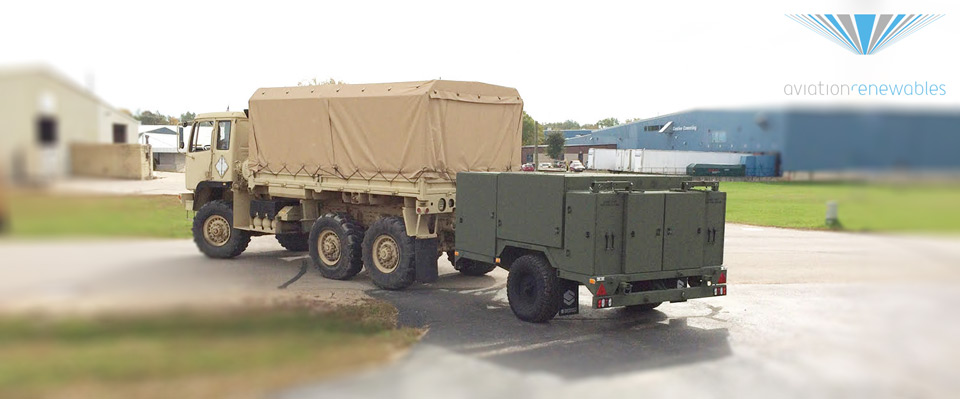 Solar Series Portable Airfield Lighting System FEATURE BENEFITS
INCREASE SAFETY
Continuous operation at medium intensity runway lighting levels capable of supporting both visible non-precision IFR operations and NVG compatible LED lighting outputs. Field maintainable with on board tool kits, on board charging system, mounting solutions and spare parts.
PORTABLE
The Portable Airfield Lighting System contains a full lighting package for a non-precision IFR airfields and remote helipads. It can be deployed within minutes, enabling quick reaction to any situation in any environment.
COMPLIANCE
The Solar Series PALS meets necessary MILSPEC certifications for US DOD and NATO requirements. Designed, tested and built for extreme operating conditions.
FULL CONTROL
Available with RF Control systems, the solar airfield lighting system can be controlled wirelessly from a single handheld controller or via the click of a mic from an approaching pilot.
Approach Lights, Threshold Lights, Runway Edge Lights, Taxiway Lights, PAPI, Wind Cones and Airfield Signs can all be included within a complete portable solar airfield lighting system.
Each military transport trailer is able to travel both on and off road in any environment meeting or surpassing all NATO and US DOD road requirements.
The trailer is equipped with a MILSPEC sophisticated individual light charging system in order to keep the lights in a permanently charged state and ready for deployment at anytime. With the optional cable backup system, the Solar Series Portable Airfield Lighting System can also support 24/7 continuous operations in civil, defense or humanitarian aid operation bases anywhere in the world.
View more in Aviation Renewables offers solar LED airfield lighting solutions.