Solar Airport Lighting, a Sustainability option for the environment
Sustainability and safety are fundamental principles that govern the actions and activities in the aviation industry. With the pass of the years, Solar Airport Lighting has been developed reliable technology, fulfilling these two principles and gaining an important position among the options to install at airports for Airfield Ground Lighting (AGL) systems solutions. Currently, solar airport lighting is use for runway, threshold, approach, taxiway, wind cone and apron lighting compliant with ICAO, FAA and Civil Aviation Authorities.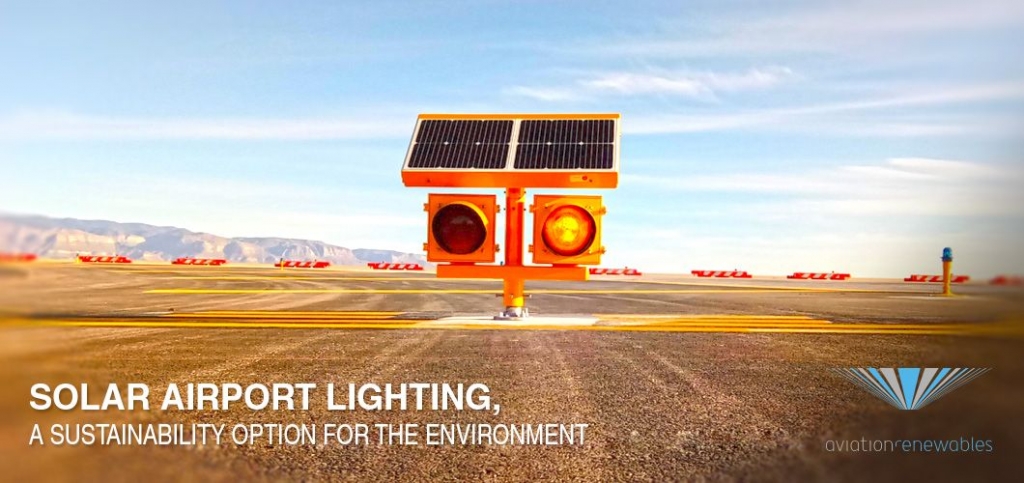 Up challenges allow development
As a result of learning from key challenges, like remote sites, where many places do not have readily available AC power (airports have no lighting) and while some have it but can be unreliable because of the transportation of diesel or expensive installation. Or challenges, as power failures and natural disasters, some airports have opted to use solar airport lighting as the primary power source because of his autonomous system. As a result, the development of this technology has favored his use as a backup for emergency operations ready for quick deployment in the case of emergencies. Maintains night operations 24/7, even when the primary runway is closed in case of blackout, some flood has occurred or MEDEVAC operations are necessary.
The safety and financial benefits of Solar Airport Lighting after the initial purchase
This renewable LED lighting system helps to mitigates the damage environmental impact at airports to create a clean and healthy environment (carbon management).
Sustainable airport, zero emissions, zero-waste and well-being schemes. Allows the airports to maintain night operations and maximum flexibility during future operations.
Simple maintenance with a simple battery change required every 5-8 years.
Decrease this risk of any failure allowing uninterrupted, 24/7 operations to continue even after natural damage to the main runway lighting system. Avoiding conventional runway lighting system not only requires constant maintenance on the complexities of an amperage system.
Medical emergencies evacuation to larger centers, as the MEDEVAC operations cost savings are realized through the ease of installation, low maintenance, and worker safety. Especially, in rough lands which is difficult of installing conduit and cables a long and tedious task.
Economic cost savings and long-term operations capability over the next years. A completed project is estimated to be 20% of the cost of installing, operating and maintaining a conventional airfield lighting system.
Costs of solar panels continue to drop while efficiency continues to rise because solar power systems reports a very good ROI. Comparison between the cost of estimate of $1.00 for kWh of diesel generators, or with rates in excess of 70 cents per KWh, the cost of operating a conventional lighting system that would use 10 to 20 kilowatts would be very expensive. The Solar Series MAPPS has zero electrical input of any kind and would pay for itself in four years or less.
Increase economic development, through the benefits of air transportation, tourism, agriculture and mining in locations where are all dependent on efficient transportation.
Custom design self-contained solar power system fits perfect for requirements or demand of energy.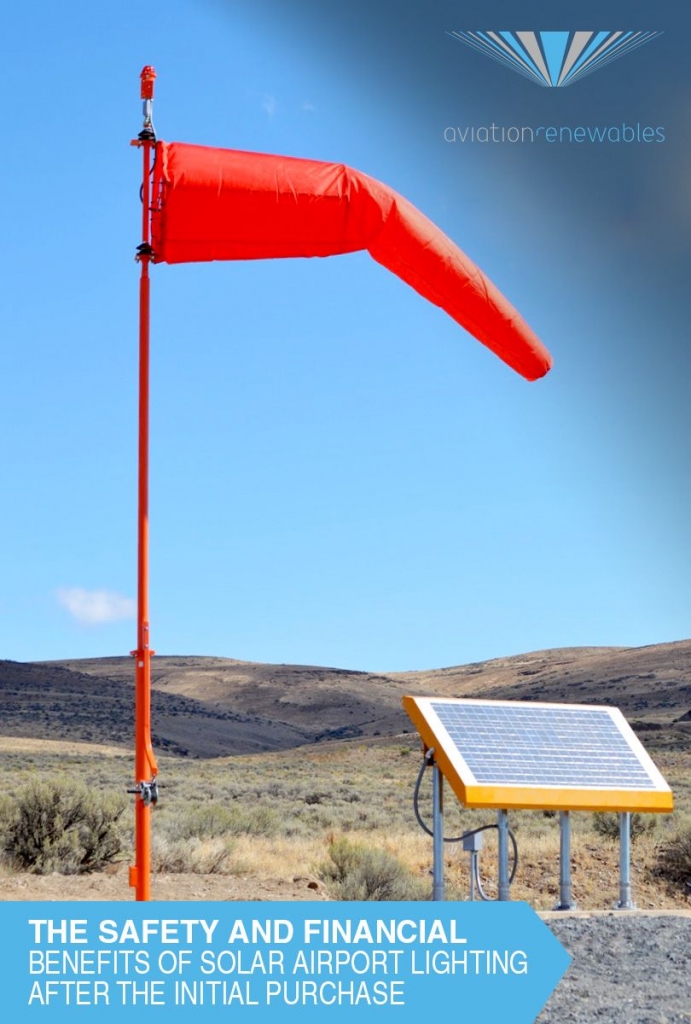 Expertise around the world
With more than 270 installations operating until the date in different countries and climates of the world, Aviation Renewables has been specialized on design, supply, deliver, install, commission and train for systems in support of solar airport lighting. to increase safety and efficiency of the worldwide aviation industry.
This new technology will meet expectations for runway safety, ICAO compliance, economic cost savings and long-term operations capability over the next years. As the most proven, experienced and trusted turn-key integrator for off grid, autonomous, solar LED airfield, helipad and obstruction lighting systems in the industry, Aviation Renewables continues to lead the industry in efficient, low cost and reliable LED aviation lighting solutions.
The cost-effective solution for upgrading airfield lighting and with end of life electrical lighting infrastructure in need of replacement, the self-contained solar LED runway lighting proved to be an excellent solution. Airfields that have been introduced to solar airport lighting and technology can operate inclusive in Class II at international airports.
With a proven list of established international airports, currently are using the runway, taxiway and obstruction lighting, were key in the decision to install solar vs. conventional hard-wired lighting. Airports are able to avoid installation of new cabling, trenching and power infrastructure, and it could install the self-contained lighting extremely quickly in a combination of convenience and high performance to ensure safe operations.
Aviation Renewables continues to lead the industry in efficient, low cost and reliable LED aviation lighting solutions. For more information, please visit website Aviation Renewables Offers Solar LED Airfield Lighting Solutions.